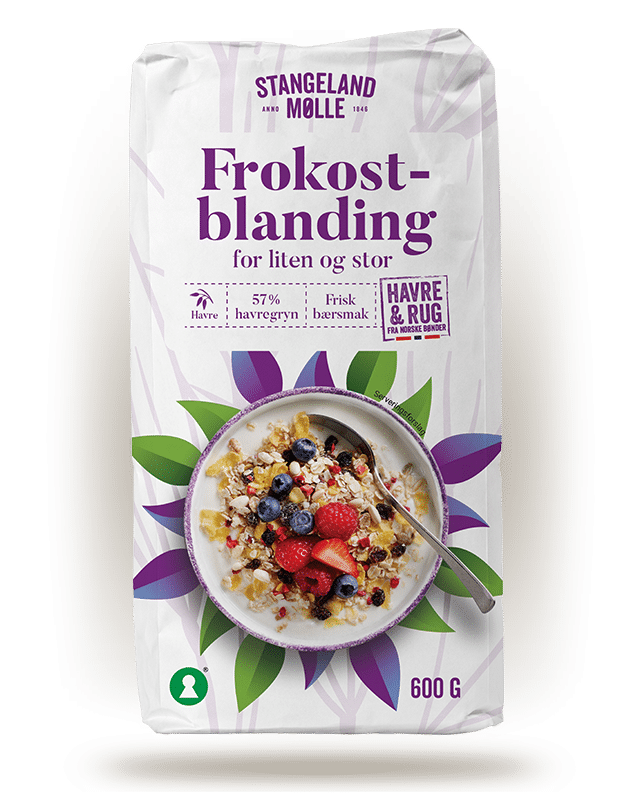 BREAKFAST CEREAL
Morning, lunch, snack. Fresh cereal with quality ingredients. Rich in fiber and good source of iron. Delicious with milk, yoghurt, Cultura, Biola or fresh berries.
The quality, nutrition and fresh taste
Stangeland Mølle has been in the service of oats since 1846, so this grain was a natural main ingredient when we developed our own cereal.
We chewed our way to a mixture based on quality, nutrition and fresh taste. Important nutrients such as iron (important for the immune system and brain) and fiber (good for digestion and energy) are well taken care of. We use naturally dried berries that have identical nutritional value as fresh berries.
We use currants and not raisins. All for the sake of quality! We think you can taste it too.
Ingredients: Oatmeal, currants, cornflakes (corn, sugar, salt and barley malt), rye, puffed rice, wheat germ, strawberries and raspberries.
Allergens
May contain traces of sesame.
Energy 1437 kJ (339 kcal)
Protein 7,5 g
Carbohydrate 72 g, hsugars 18,8 g
Total Fat 2,3 g
Saturated Fat 0,5 g
Dietary Fiber 7,2 g
Sodium 180 mg
Iron 2,1 mg (15 % av referanseverdi)